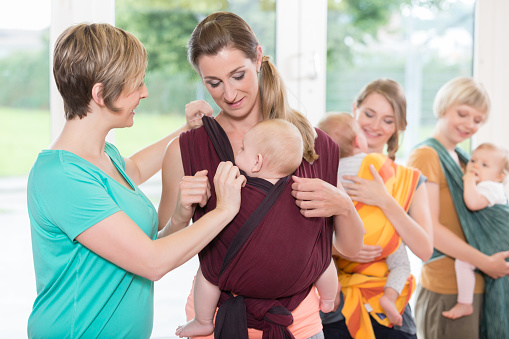 When Happy Fluffy sent this tester, I had a bad week on my back. I can't hold our baby as I want, so my husband decided to step in.
As you can see, he was struck by the beauty of the packaging, so it is not difficult to persuade him to share his views on it.
My husband wrote:
In appearance——
It looks good. Can you make me a suit from scraps? Isn't it ours to keep it? This is too bad. I love so much. It makes me look good, like I am a poet. Hahaha.
In terms of feel-
It feels soft and the texture is there, but it is very light when you touch it. Very atmospheric. I don't sweat much in this area.
About packaging quality-
If I don't tighten it properly, my shoulder will hurt after a while. But I like double shoulders, especially when the shoulders are well spread out, like that kangaroo. When I was tied under her butt, I also liked it better because it felt like her weight was "lifted" by the wrapper.
The final judgment-
If we have another child, can we get this? I think it would be cool to bring a lighter baby in. I will look really good. I can't give full play to my eyes!
This is my comment:
If you need to compare the beauty of the package with the beauty of people, this would be George Clooney. He is that kind of rugged formal coat, and he is very, very handsome. You will take him to meet your fussy mother, because you also know her and you will find him impressive.
The fine details of the diamond provide some texture to the hand, and the dark blue and white complement each other. No wonder how this package has quickly become a favorite of monochrome lovers. The knots and slubs of flax add to this solemn appearance. Like Clooney, he is both handsome and charming. There is a lot of diagonal stretch, which will rebound slightly when tightened, and you can be sure that it will be very soft after being fully inserted, because the small thread will stretch when worn and will breathe plumply. It will breathe! This is a ventilated package for summer or hot and humid weather! Although the packaging itself is very thin, weighing 290-300 g/m², it is in the mid-range in terms of weight. It can be knotted, has good drape, is suitable for thin packages, and is easy to pleate and tighten, because the sliding effect is very good!
If you wear a heavy toddler (my weight reaches 15 kg) and wear her for a long time, it will *sag* if it is not tightened properly, and it will indeed dig a little on the shoulders. We take long walks (and hikes) one hour at a time and find that for us, this kind of package works well in multi-layered carrying, especially for those with two shoulder passes. With FWCC, DH, kangaroo harness and shepherd dog, it is enough to support the weight of our toddlers. However, if you are looking for comfort, this is not it, so I personally would not call it a short package.